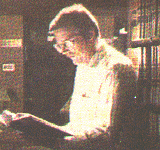 Virtual Reference Desk Abstract

This is a searchable version of Familiar quotations: a collection of passages, phrases, and proverbs traced to their sources in ancient and modern literature by John Bartlett, commonly known as Bartlett's Familiar Quotations. This is the online edition of the 9th edition, 1901.

ON-LINE ED.:Columbia University, Academic Information Systems (AcIS), Bartleby Library (publications@columbia.edu). Transcribed, proofread, and marked-up in HTML, March 1995. Markup, graphics, and added files c copyright 1995-96 by the Trustees of Columbia University in the City of New York.

Subjects for this Item:
ENGLISH LANGUAGE

---

http://www.virtualref.com/

Copyright © 1997 Christopher C. Brown
Revised: 2/11/01